At the Table
Find this page at:
go.ncsu.edu/readext?691717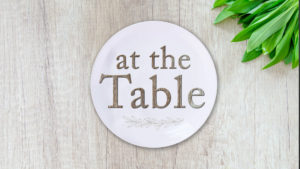 Our new cooking show with Star Communications has officially aired on the local channel 16! At the Table is an educational cooking show using realistic recipes with ingredients that are easy to find locally. You'll learn how to make delicious healthy meals, the "why" behind eating nutritious foods, tips, and tricks to help you become a master chef in the kitchen, and so much more! Join us on Tuesday's on channel 16.
Don't get Star Channel 16 where you live?
No problem! Find each episode right here on our website.
Episode One: Intro to the Mediterranean eating pattern. The Mediterranean diet has been shown to reduce your risk for type 2 diabetes, heart disease, and related health conditions. Learn how to GO MED with these simple recipes!
Episode Two: Mediterranean eating: Change up your protein. Learn how to make delicious tacos with a secret ingredient that will help make them more nutritious!
Episode Three: Mediterranean eating: Swap your fats. Find out some healthy options to replace saturated fats, and improve your cholesterol!
Episode Four: Mediterranean eating: Increase your fruits and vegetables. A diet high in fruits and vegetables has been shown to lower weight and improve cardiovascular health, along with protecting against chronic disease. Try these tasty recipes to up your intake!
Episode Five: Mediterranean eating: Up your whole grains.  Sydney discusses whole grains versus refined grains and why whole grains should be your go-to! Learn how to make a tasty snack or appetizer for the family, and switch up your Chicken Fried Rice to be a little healthier.
Episode Six: Airing June 16th at 8 p.m.! Mediterranean eating: Rethink your sweets. A high-sugar diet has several negative health impacts. Learn how to cut your sugar in these tasty breakfast recipes.