At the Table
Find this page at:
go.ncsu.edu/readext?691717
en Español

El inglés es el idioma de control de esta página. En la medida en que haya algún conflicto entre la traducción al inglés y la traducción, el inglés prevalece.

Al hacer clic en el enlace de traducción se activa un servicio de traducción gratuito para convertir la página al español. Al igual que con cualquier traducción por Internet, la conversión no es sensible al contexto y puede que no traduzca el texto en su significado original. NC State Extension no garantiza la exactitud del texto traducido. Por favor, tenga en cuenta que algunas aplicaciones y/o servicios pueden no funcionar como se espera cuando se traducen.

English is the controlling language of this page. To the extent there is any conflict between the English text and the translation, English controls.

Clicking on the translation link activates a free translation service to convert the page to Spanish. As with any Internet translation, the conversion is not context-sensitive and may not translate the text to its original meaning. NC State Extension does not guarantee the accuracy of the translated text. Please note that some applications and/or services may not function as expected when translated.

Collapse ▲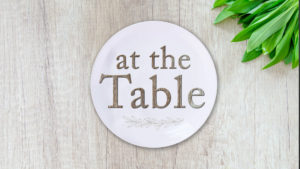 At the Table is an educational cooking show produced by using realistic recipes with ingredients that are easy to find locally. You'll learn how to make delicious healthy meals, the "why" behind eating nutritious foods, tips, and tricks to help you become a master chef in the kitchen, and so much more! Join us on Tuesday's on channel 16. This show is a partnership with Star Communications, sponsored in part by United Way of Sampson County.
Don't get Star Channel 16 where you live?
No problem! Find each episode right here on our website. You can also subscribe to Star Communications on YouTube to get notifications each time a new episode airs.
Episode One: Intro to the Mediterranean eating pattern. The Mediterranean diet has been shown to reduce your risk for type 2 diabetes, heart disease, and related health conditions. Learn how to GO MED with these simple recipes!
Recipes: Super Tomato Soup & Lunch Salad
Episode Two: Mediterranean eating: Change up your protein. Learn how to make delicious tacos with a secret ingredient that will help make them more nutritious!
Recipes: Mushroom Beef Tacos and Avocado Salad
Episode Three: Mediterranean eating: Swap your fats. Find out some healthy options to replace saturated fats, and improve your cholesterol!
Recipes: Mediterranean Tuna Salad and Spicy Roasted Cauliflower
Episode Four: Mediterranean eating: Increase your fruits and vegetables. A diet high in fruits and vegetables has been shown to lower weight and improve cardiovascular health, along with protecting against chronic disease. Try these tasty recipes to up your intake!
Recipes: Mango, Black Bean, and Quinoa Salad and Mushroom Almond Burgers
Episode Five: Mediterranean eating: Up your whole grains.  Sydney discusses whole grains versus refined grains and why whole grains should be your go-to! Learn how to make a tasty snack or appetizer for the family, and switch up your Chicken Fried Rice to be a little healthier.
Recipes: Chicken & Vegetable Fried Rice and White Bean Hummus
Episode Six: Mediterranean eating: Rethink your sweets. A high-sugar diet has several negative health impacts. Learn how to cut your sugar in these tasty breakfast recipes.
Recipes: Banana Oatmeal Pancakes and Banana Nut Muffins
Episode Seven: Summer Series: Episode 1. Looking for a fresh and satisfying summer meal? Try out these delicious fish tacos from one of cookbooks offered through N.C. Cooperative Extension programs.
Recipes: Festive Fish Tacos, Slaw Mix and Salsa
Episode Eight: Summer Series: Episode 2. Need a healthy dish to take to a friend or family gathering? Taking a healthy dish to an event ensures you have something nutritious to eat while you are there. Learn how to make a quick and easy fruit dip and Sydney's favorite Bruschetta on today's episode.
Recipes: Sydney's Bruschetta and Healthy Fruit Dip
Episode Nine: Summer Series: Episode 3. It's summer! Crank up the grill and use up that garden bounty. Learn how to make tasty grilled veggies, citrus marinated chicken, and, Sydney's favorite, baked okra – a delicious and healthy way to use up all that fresh okra!
Recipes: Easy Baked Okra, Citrus Marinated Grilled Chicken, and Grilled Squash and Onions.
Episode Ten: Summer Series: Episode 4. When it's this hot outside, sometimes you just need a light, refreshing meal to cool you off. Try out this summer salad with grilled salmon! This salad is a great way to use up any leftover veggies you have in your fridge, and incorporates fresh herbs and fresh peaches to really satisfy your taste buds.
Recipes: Rainbow Veggie, Peach and Basil Salad with Marinated Salmon
Episode Eleven: Cheesy Chicken Artichoke Risotto and Med House Salad. Is your Instant Pot still in the box? Learn how easy it can be to use an electric pressure cooker with this heart healthy recipe.
Recipes: Cheesy Chicken Artichoke Risotto and Med House Salad
Episode Twelve: Whole Wheat Pasta with Pesto & Vegetables. Craving pasta? Learn how to incorporate a variety of vegetables into one quick and simple meal that your friends and family will love.
Recipes: Med Whole Wheat Pasta with Pesto & Veggies
Episode Thirteen: Hurricane Prep Meals. Hurricane season is upon us which can mean limited meal options for you and your family. Learn some hurricane preparation tips, including foods to have on hand, when and what to throw out after a storm, and some great disaster preparedness resources from NC State University.
Recipes: Fresh Made Salsa and Grilled Quesadillas
Episode Fourteen: All About Beans. Got beans? Beans are a great way to increase fiber in the diet and help to provide a feeling of fullness or satiety. They are also known for their heart health benefits since they are loaded with several vitamins and minerals and can help improve blood cholesterol. Join Sydney in today's episode as we add beans to some of our favorite foods, like spaghetti and burgers.
Recipes: Whole Wheat Pasta with Beans & Greens and Quinoa Pinto Bean Burgers
Episode Fifteen: Burrito Bowl and Roasted Butternut Squash. Looking for a new vegetable to try? Butternut squash is the perfect savory vegetable that you will want to add to your grocery list! Sydney will show you how easy it can be to cook this tasty squash we don't eat enough of.
Recipes: Burrito Bowl and Roasted Butternut Squash
Episode Sixteen: Back to School. Several school systems around the state have transitioned to our younger youth returning back to school at least a few times a week. This means not only are children trying to get back into a morning routine but parents are too! Try out these healthy breakfast recipes that are quick, tasty, and versatile to help your family start the day off right.
Recipes: Easy Egg Roll Ups, Overnight Oats, and Simple Rice Cake Snacks
Episode Seventeen: Fall Into Cooking – All Things Pumpkin. Pumpkin pie, pumpkin bread, pumpkin muffins, pumpkin coffee, pumpkin chips (?) – it is fall after all which means everything has transitioned to being pumpkin flavored. But how healthy are all of these "pumpkin flavored" things? The majority of the time, pumpkin flavored foods contain loads of sugar, and very little actual pumpkin. Pumpkin itself is a healthy vegetable that is low in calories and high in nutrients! Try out these tasty pumpkin recipes that will help fuel your pumpkin obsession.
Recipes: Turkey Pumpkin White Bean Chili and Healthy Pumpkin Muffins 
Episode Eighteen: Fall Into Cooking – Ground Turkey & Kale Soup. Fall is here which means it's soup season! Soup is an excellent way to get in lots of veggies, use up what you have in the refrigerator or garden, and feed your whole family with little effort. You'll want to add this recipe into your fall/winter meal rotation!
Recipes: Ground Turkey and Kale Soup
Episode Nineteen: All Things Sweet Potatoes: Did you know the sweet potato is North Carolina's state vegetable? We have an abundance of sweet potatoes in our state. Try out these creative ways to enjoy sweet potatoes this fall!
Recipes: Sweet Potato Fries, Robin's Sweet Potato and Kale Salad, and Stuffed Sweet Potatoes
Episode Twenty: Make Ahead Dish for the Holidays: Are you traveling this holiday season or want to get some of those dishes out of the way so you spend less time cooking on Thanksgiving Day? Try these tasty make-ahead holiday side dishes this Thanksgiving! Check out these resources from today's video – Basic Holiday Food Safety and Holiday Gatherings and Potlucks.
Recipes: Brussels Sprouts with Bacon, Pecans and Cranberries and Holiday Rice Salad
Episode Twenty-One: What to do with those Thanksgiving Leftovers? Try out these tasty recipes when you get tired of eating leftovers. These are easy to make and give you a completely different flavor using the traditional Thanksgiving meal foods.
Recipes: Turkey and Stuffing Stuffed Peppers and Leftover Thanksgiving Crunchwrap
Episode Twenty-Two: Not Your Traditional Chili: Cooler weather calls for warm foods. Chilis and soups are my favorite this time of year because there are so many varieties! If you need a spin on your traditional chili recipes, give these two a go – they won't disappoint!
Recipes: White Chicken Chili and Black Bean and Butternut Squash Chili
Episode Twenty-Three: Fixing that Sweet Tooth: The holidays are surrounded with sweet treats everywhere you go. It's absolutely okay to enjoy these foods during the holidays, we don't get them often! Learn these tips and trick to be mindful this holiday season, and when you're craving sweets at home, try these recipes to help keep you satisfied.
Recipes: Chocolate Chip Oatmeal Cookies and Microwave Baked Apples
Episode Twenty-Four: Too Busy for Breakfast? During the holiday season we tend to stay busy preparing foods and keeping on the go. Here are a few breakfast recipes you can make for the week that are easy to reheat and sure to satisfy you until lunch time!
Recipes: Egg Muffins and Maple-Pumpkin Spice Steel Cut Oats
Episode Twenty-Five: Holiday Appetizers. Need some tasty treats to take to your next holiday gathering? Try out these two holiday apps that are sure to be a crowd pleaser. (Psst, they're pretty good for you too!)
Recipes: Sweet Potato Bites and Olive Oil Deviled Eggs
Episode Twenty-Six: HAPPY NEW YEAR! In the south, we have a traditional New Year's Day meal we like to eat to bring us good fortune for the rest of the year. Try out these tasty recipes to get that meal on the table fast, but leave you licking your fingers for more!
Recipes: Black Eyed Peas & Ham, Cornbread, Southern Collard Greens
Episode Forty: Chicken & Mushroom Shepherd's Pie – I love finding a way to make recipes healthier. Although there are many variations of Shepherd's Pie, the traditional ingredients include ground meat, gravy, and mashed potatoes. While those ingredients aren't necessarily a bad choice, we can make them healthier by choosing leaner meats, low-fat milk in our gravy, and using olive oil instead of butter in our mashed potatoes. Don't worry, this dish doesn't skimp on flavor and will leave you completely satisfied!
Recipe: Chicken & Mushroom Shepherd's Pie, Homemade Chicken Broth
Episode Forty-One: Lightened up dinner – The best thing about warm weather is being able to do more things outdoors! As wonderful as the fresh air and sunshine is, after a hot day outside a lightened up dinner is a must. Try out this roasted carrot salad and crispy oven-baked pork chop. You'll want to add this salad to your go-to summer recipes!
Recipes: Roasted Carrot Salad and Crispy Oven-Baked Pork Chops
Episode Forty-Two: Why Med?  You may be wondering, "why does the N.C. Cooperative Extension promote the Mediterranean Diet over other diets?" Well in this episode we dive into the "why" behind going Med as we move into National Mediterranean Diet month.
Recipes: Quinoa Summer Salad
Episode Forty-Three: Eat More Fruits and Vegetables. There can be a lot of misinformation and confusion about nutrition. However, eating more fruits and vegetables is one thing that most all dietary patterns, nutrition experts, and medical professionals can agree upon. This is because there is so much evidence to support the benefits of a diet heavy in fruits and vegetables. Join us as we make two tasty recipes that incorporate fruits and vegetables!
Recipes: Lillies Spring Spaghetti Squash Skillet and Oatmeal Breakfast Bars
Episode Forty-Four: Heart Healthy Fats. Unsure what the difference is between saturated fats and unsaturated fats? Want to know more about why we limit certain fats? Join us today as we talk all about different types of dietary fats, how they can affect our heart, and swaps to make to help keep your heart healthy!
Recipes: Lunch Wrap and Kachumber Salad
Episode Forty-Five:  Make it Med – Maybe you have decided you really want to try out the Mediterranean Diet, but are still hesitant to fully "go Med" because it means giving up some of your favorite foods. Fortunately, that doesn't have to be the case! There are simple flips we can make to help a dish align with the Mediterranean Diet eating pattern. Today we are going to make two of my favorite foods, but we'll be making them Med!
Recipes: Lillies Chicken Parm One Pan Bake and Cassidy's Black Bean Brownies
Episode Forty-Six: Garden to Table  – Today we're joined by Sampson County Extension Master Food Volunteer, Dempsey Craig, as he walks us through the garden to teach us how to harvest fresh vegetables. Then stay tuned to see what delicious meal we turn them into!
Recipes: Lillie's Fresh and Healthy Taco Salad
Episode Forty-Seven: Cooking with Herbs  – We're back in the garden to learn all about growing and harvesting herbs! My favorite herbs are the ones you eat, so we'll be turning them into something tasty afterwards.
Recipes: Budget Bytes Herb Roasted Pork Tenderloin and Stir Fried Napa Cabbage
Episode Forty-Eight: Protein – Let's talk about those macronutrients! We will dive into the 3 macronutrients over the next few weeks. This week is all about protein – why it's important, healthy sources, and of course a healthy recipe loaded with it.
Recipes: Lentils with Cumin Vinaigrette and Grilled Tuna
Episode Forty-Nine: Carbs – Carbohydrates get a bad rap these days, however they provide a lot of benefits to your body! As your body's preferred fuel source, they provide fiber and many carbs also contain important vitamins and minerals for your body. Learn all about why you shouldn't avoid carbs in today's lesson!
Recipes: Watermelon Salad with Feta and Basil
Episode Fifty: Fats – 9/10 people are still scared of consuming fat, even though we know some of the healthiest foods for us contain it. Today we'll talk all about unsaturated and saturated fats, and make two delicious recipes to help keep your cholesterol HAPPY!
Recipes: Oven Fried Parmesan Chicken and Homemade Hummus
Episode Fifty-One: One Pan MyPlate Meal – Robin Palmer, Sampson Regional Medical Center's Community Wellness Coordinator, joins us today to talk all about MyPlate!
Recipes: Baked Pork Tenderloin with Roasted Veggies
Episode Fifty-Two: Dining Out? – Summer is a great time to enjoy fellowship with friends and family, and sometimes that may involve dinner out. There are plenty of healthy options when eating out, and Robin from SRMC and I will help you to navigate the menu! We will also make a tasty meal that might have you choosing to eat in instead!
Recipes: Three Bean Salad with Robin's Famous Dressing, Spinach Feta Turkey Burgers, and Creamy Skinny Coleslaw
Episode Fifty-Three: PLAN – Trying to eat healthy or just eat more meals at home? Well planning makes it happen! This is the most important key for cooking smart. If you don't plan, you will probably not have the foods you need to cook your meals which leads to frustration and meals out. Check out this week's episode on planning tips to help you have a successful week!
Recipes: Beef Stir Fry
Episode Fifty-Four: SHOP – Now that we have our plan together, it's time to go shopping! This week Sydney helps you navigate the grocery store, including what to look for on packaging.
Recipes: Easy Chicken Pot Pie and Sydney's Simple Fruit Salad
Episode Fifty-Five: SAVE – Do you often wonder if you can feed your family healthy foods on a budget? Many families think eating healthy is expensive. We'll talk today about unit pricing, fresh vs canned or frozen options, and much more! Who doesn't like to save a little cash?
Recipes: Ground Turkey Skillet Dinner and Carrot Cake Bites
Episode Fifty-Six: What is local food? There is no cut and dry definition of "local," and it tends to mean different things to different folks. However you define local foods, there are some benefits from eating local. Learn all about local foods and how they can benefit you and your community in today's episode!
Find the NC State Extension Local Food Webpage here to learn more about local food.
Visit NC Farms Webpage
Recipes: Farmers Market Frittata
Episode Fifty-Seven: Seasonality of local foods. We are very fortunate to live in a state that produces so many different foods! A great way to utilize those foods is to adapt your recipes to be more inclusive of what is currently in season. Today we talk all about adapting recipes, how to find those local foods in the grocery store, and we are joined by a special guest from AJ Family Farm to learn how consumers can help out the local farmer!
NC 10% Campaign: What's in Season Monthly Guide
Recipes: Cabbage Roll Casserole
Episode Fifty-Eight: Cleaning, preparing, and storing local foods. Now that you have your tasty local produce, let's chat about how to use it! In today's episode we walk through the steps of properly cleaning produce, different ways you can use it, and how to store it to maximize its freshness.
NC State Extension: Food Storage Quick Guide
Recipes: Peanutty Stew (Sydney's Fave!)
Episode Fifty-Nine: Common local food questions.There are many myths about local foods, including their environmental impacts and health benefits. In today's episode, we chat about the research behind the environmental, economic, health, and community benefits of local food systems to help you make informed decisions when shopping for food.
NC State Publication: Clarifying Current Research
Recipes: Chicken Spaghetti and Crispy Vegetable Pancakes
Find more local foods recipes here
Episode Sixty: Hurricane Preparedness. It's National Disaster Preparedness month and what better way to make sure you're prepared than to have a Hurricane Kit! Today we're visited by FCS Agent of Brunswick County, Meghan Lassiter, as she talks all about her Hurricane Kit. You can find Meghan's Hurricane Cookbook here!
Recipes: 7 Can Chicken Tortilla Soup and Chickpea Salad
Episode Sixty-One: It's Whole Grains Month! Join Meghan and Sydney as they talk all about whole grains, their health benefits, and ways to incorporate them!
Recipes: Avocado Corn Salad and Instant Pot Chicken Stew with Farro
Episode Sixty-Two: Happy Fall! Are you excited for fall produce? We are! Meghan and Sydney partner to serve up tasty fall produce you can find at your local Farmer's Market.
Recipes: Skillet Apple Pork Chops and Savory Pumpkin Hummus
Episode Sixty-Three: Butternut Squash Soup 3-Ways. As the air cools off, our cravings for something warm kick in. Try out three delicious ways to satisfy those cravings with butternut squash or pumpkin! These hearty soups are loaded with flavor and can be customized based on what you're in the mood for.
Recipes: Chipotle Spiced Pumpkin Soup
Episode Sixty-Four: Cast Iron Cooking. Do you have an old hand-me-down cast iron that needs a little love? Today we talk all about how to use, care for, and store your cast iron skillet. It may seem intimidating at first, but it's actually fairly easy and cast iron is durable and versatile! With just a little maintenance, your cast iron can last a lifetime!
Recipes: Cheesy Chicken Enchilada Skillet with Homemade Enchilada Sauce
Episode Sixty-Five: It's Oatmeal Day! October 29th is Oatmeal day, so of course we are here to talk all about the different types of oatmeal and ways you can use it in cooking. We'll be focusing on dessert today using two different recipes.
Recipes: Apple Crumb Dessert and Pumpkin Pie Baked Oats
Episode Sixty-Six: Ethnic Cooking, Part 1, Mexican: Join us for our next series featuring ethnic food traditions! Today we are joined by Michelle Estrada, FCS Agent in Wayne County, who will show us some of her favorite Mexican recipes. Enjoy learning all about Michelle's culture; we sure did!
Recipes: Pico De Gallo and Guacamole
Episode Sixty-Seven: Ethnic Cooking, Part 2, Mexican: Michelle joins us again today to show us a delicious one-plate meal. Join us for tasty tostadas, an easy and quick Mexican recipe for your family!
Recipes: Tostadas
Episode Sixty-Eight: Family Traditions, Part 1: Do you have a food that your family makes on special occasions? Today we're making two tasty family recipes our families make during the holidays! Denise McIntyre, our Substance Abuse Prevention Program Assistant, joins Sydney to make her family's sweet potato pudding, a great side dish or dessert for your Thanksgiving meal! We also try out Sydney's blueberry bread, a modified version of her family's holiday dessert bread.
Recipes: Sweet Potato Pudding and Blueberry Bread
Episode Sixty-Nine: Ethnic Cooking, Part 3, Chinese: We are joined by Karen Tsang, a registered nurse from WakeMed, who will teach us one of her favorite Chinese recipes she loves to make for her family. This recipe includes a simple marinade and simple sauce that you can use with a variety of dishes!
Recipe: Chinese Stir Fry
Episode Seventy: Ethnic Cooking, Part 4, Russian: Do you love meat and potatoes? So do we! Katya Yakovleva, a registered nurse from WakeMed, joins us today to make a delicious recipe that has been passed down in her family for generations. Katya tells us all about growing up in Russia, her holiday family traditions, and the foods enjoyed in different republics (think Eastern BBQ vs Western BBQ). Enjoy!
Recipes: Roasted Pork and Potatoes
Episode Seventy-One: Family Traditions, Part 2: When I asked Denise if she had any family recipes or traditions, she immediately said "Fish Stew!" Denise McIntyre, one of our 4-H program assistants, joins us again to make a recipe made often by her Grandma during the winter months. She tells us all about the tradition around making this stew, and how just the smell of this stew brings back those memories!
Recipe: Fish Stew
Episode Seventy-Two: Ethnic Cooking, Part 5, Puerto Rican: Looking for a recipe that feels like 80°F, surrounded by coconut trees, a nice ocean breeze and sand between your toes? Ivelisse Colon, Family & Consumer Sciences Agent in Orange County, takes us there with her tembleque recipe! We talk all about her family's holiday traditions, food in Puerto Rico, and different cooking techniques she grew up using.
Recipes: Tembleque and Tortilla Espanola
Episode Seventy-Three: Ethnic Cooking, Part 6, Hmong: I absolutely loved learning about Hmong culture from Der Holcomb, Family & Consumer Sciences Agent in Alexander County. Hmong are an indigenous people living traditionally in isolated mountain villages throughout Southeast Asia. They pick-up recipes from a variety of cultures due to their nomadic lifestyle. Today Der brings us a tasty Vietnamese recipe that is fresh, filled with vegetables, and versatile, so it is an excellent recipe for the New Year! If you have a resolution to eat more fruits and vegetables, this would be an excellent recipe for you!
Recipes: Summer Rolls with Sweet Peanut Sauce and Spicy Dipping Sauce
Episode Seventy-Four: Lasagna Soup: With so much cold weather this year, you might be craving something to warm you up. This recipe is a delicious option that can be made in the crockpot or the electric pressure cooker. Tune in to learn how to make this recipe a bit healthier for American Heart Month, while also maintaining the savory flavor. This would also be delicious with spinach added for some extra veggies!
Recipe: Creamy Crockpot Lasagna Soup
Episode Seventy-Five: Sweet Potatoes for Dessert: Today we are talking all about North Carolina's state vegetable. Sydney is joined by her colleague, Eileen Coite, to talk about Ag in the Classroom that is being offered to our 4th grade youth. They'll be making something sweet with this special ingredient, as well as talking about what the youth have been learning about.
Recipes: Sweet Potato Energy Cookies and Sweet Potato Cranberry White Chocolate Oatmeal Cookies
Episode Seventy-Six: Sweet Potatoes for your Meal: Since sweet potatoes are available all year, they are an affordable option when trying to get fresh veggies into your meals. While it may be difficult to think of a different way to utilize sweet potatoes, we have you covered with two recipes that are full of flavor and use different varieties of sweet potatoes. Try them out and let us know what you think!
Recipes: Sweet Potato White Bean Burger and Roasted Sweet Potato & Cauliflower Tacos
Episode Seventy-Seven: Sweet Potatoes for Breakfast: Vegetables can be difficult to get in for breakfast, but our recipe today is loaded with them! This one pan meal will fill you up and have you ready for your day. Modify a few of the ingredients and you could enjoy this for dinner as a fried rice recipe.
Recipe: Breakfast Fried Sweet Potato Rice
Episode Seventy-Eight: Basic Bread Baking: In February, Lenoir County Cooperative Extension hosted a bread baking workshop with culinary artist, Seraphim Smith. We are fortunate that they both joined us for today's episode! Seraphim shows us how easy it is to make your own bread by using just 6 simple ingredients. Since availability of certain items at the grocery store has become unpredictable, making your own bread may become something you'll want to practice at home. We promise you won't regret the smell in your home afterwards, or the taste of warm bread fresh out of the oven!
Recipe & Bread Resources from Seraphim: Basic Bread Class
Interested in Seraphim teaching your work group, club or church? Contact him at atlanticarthouse@gmail.com.
Episode Seventy-Nine: How to Cut Up A Whole Chicken: With meat prices increasing, we want to help you save some money by purchasing a whole chicken. Kelly Tyndall joins us today to show us just how simple it is to chop one up yourself. We also make a delicious one pan meal using the chicken breast.
Recipe: One-Pan Pineapple Chicken
Episode Eighty: How to Stretch Meats and Meals, Part 1: Today we'll be discussing tips to stretch your food budget further. We'll also be utilizing some of the chicken from last week's episode in our delicious vegetable coconut curry!
Recipe: 15 -Minute Vegetable Curry
Episode Eighty-One: How to Stretch Meals, Part 2: Love pesto but hate the price tag? Today we have an easy homemade recipe that will taste better than store bought and will feel better on your wallet. We'll also discuss other tips and tricks to stretch your food budget, such as making your own spices. Try these homemade mixes, marinades, and dips from Steps to Health: https://ncstepstohealth.ces.ncsu.edu/recipes/
Recipes: Easy Pesto Chicken and Vegetables, Cassidy's Homemade Basil Pesto
Episode Eighty – Two: Seafood: Today we are joined by Tyndall's Seafood owner, Kyle Hunter, to talk all about seafood. Kyle shows us how to fillet a fish, discusses the seafood available at his local store, how seafood is caught, and so much more! Kyle has so much knowledge to share; we look forward to having him on again in the future to share more! You can stop by and visit Kyle and his team at Tyndall's Seafood in Clinton at 108 Southeast Blvd, Clinton.
Recipe:
Episode Eighty – Three: Kitchen Dump Meal: Strapped for time or forgot to plan? We have you covered! Today Sydney walks you through the process of making a "dump" meal where you use items from your pantry, refrigerator, and freezer to make a delicious homemade meal. Try these simple steps when you forget to plan, don't feel like grocery shopping, or just need to use up the food you have in your home!
Recipe:
Episode Eighty-Four: It's National Dairy Month! Today we'll talk all about the health benefits of dairy, why you should choose to include dairy in your diet (if you don't have an intolerance of course) and we'll make a delicious recipe that includes dairy and tastes like a bowl full of comfort!
Recipe: Med Instead of Meds Seafood Chowder
Episode Eighty-Five: Looking for a quick recipe that is perfect for a hot summer day? One of my all time favorite recipes we have from our Med Instead of Meds program is this tuna salad. It's very easy to throw together and is great for lunch for the week, or even as a healthy snack.
Recipe: Mediterranean Tuna Salad
Episode Eighty-Six: Have tons of leftover watermelon from Independence Day that you're trying to find something to do with? Try out this Watermelon Cucumber Salad! It's light, refreshing, and a great way to use up any leftover watermelon you may have.
Recipe: Watermelon Cucumber Feta Salad
Episode Eighty-Seven: Easy Grilled Salmon Rice Bowls – Summer time calls for time outside, and what better way to get the family outdoors than grilled food! Today we are making a meal that you can load up everything on the grill together for a quick and easy dinner! We also discuss ways to switch this up to go with your weekly meal planning.
Recipe: Grilled Salmon Rice Bowls
Episode Eighty-Seven: All About Broccoli – Today's episode we talk all about a popular cold crop, broccoli! While we don't grow a ton of broccoli in Sampson county, it is still a popular affordable vegetable during the cooler months. It can also be found in the frozen section of your grocery store year round. Join us as we make two delicious recipes that feature this cruciferous vegetable.
Recipe: Broccoli Cheddar Casserole and Simple Mushroom Broccoli Stir Fry Noodles (both recipes from Budget Bytes.com)
Episode Eighty-Eight: Spin Dip for the Holidays: Looking for a tasty recipe to bring to your next holiday gathering? Spinach dip is a popular dish that is quick and easy to make, and requires only a few ingredients. We'll also chat about a fun way to use up that leftover spinach dip!
Recipe: Hot Spinach and Artichoke Dip
March 28, 2023: Ethnic Fruits : In honor of National Nutrition Month we hosted our Farmworker Educator, Olivia Anotonio, to teach us about fruits and vegetables from Mexico. Olivia shows us how to cut papaya, guava, and prickly pear fruit (Tuna). We hope this will help you expand your fruit options with fun new fruits to try at home!
Recipe: Mexican Corn Soup and Papaya Smoothie
April 11, 2023: Quick Healthy Meals: Spring is in the air, which also brings upon busy weeknights and weekends. Sydney shows you a simple, healthy recipe you could make at home for a busy weeknight. She also talks about tips and tricks to help "prep" meals ahead of time. This dish was a hit amongst our STAR Production team!
Recipe: Sheet Pan Caprese Gnocchi
April 25, 2023: Sheet Pan Dinner: We're on a roll with the sheet pan meals! Today's show features two more sheet pan recipes, one for dinner, and one for dessert. These were both a favorite amongst Sydney's household, and we hope they'll become a favorite amongst yours too!
Recipe: Hoisin Siracha Sheet-Pan Chicken
May 11, 2023: SuperGrain, Quinoa. In honor of National Mediterranean Diet Month, we're going to talk about one of Sydney's favorite whole grains. Quinoa, which typically has a bit of a nutty flavor, can be used in a variety of dishes. Today Sydney shows you how it can even be used for breakfast. Learn about the health benefits of this superfood along with other tips on how to go "Med."
Recipe: Spinach Mushroom Quinoa Skillet and Sydney's Go-To Breakfast Quinoa
May 23, 2023 A Thai Twist on Mediterranean. On today's show, Sydney showcases a tasty recipe from MedInsteadofMeds.com. By using hearts of palm instead of rice noodles, we're able to pump up the nutrient profile in this Pad Thai recipe. Join us to learn more about the health benefits of hearts of palm and tips to get more veggies in your diet.
Recipe: Pad Thai Inspired Hearts of Palm Noodles