Sampson County 4-H
Find this page at:
go.ncsu.edu/readext?460193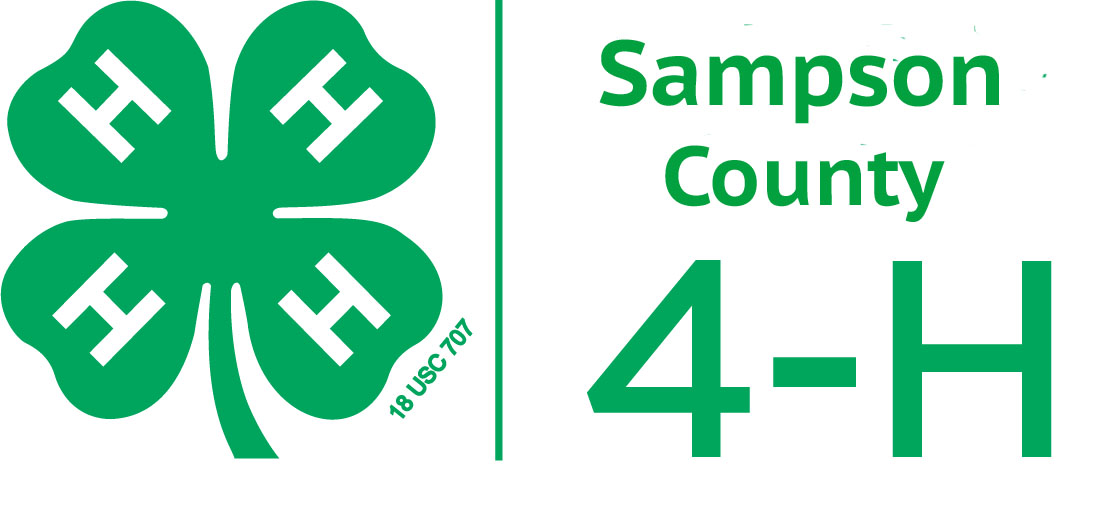 ATTENTION
ALL SAMPSON COUNTY 4-H EVENTS AND ACTIVITIES HAVE BEEN SUSPENDED UNTIL FURTHER NOTICE TO HELP IN THE EFFORTS TO COMBAT THE SPREAD OF THE COVID-19 NOVEL CORONAVIRUS. SOME ACTIVITIES AND EVENTS WILL BE AVAILABLE ON A VITUAL PLATFORM. PLEASE NOTIFY OUR OFFICES IF YOU DO NOT HAVE CONNECTION TO THE INTERNET. IF YOU NEED TO MEET WITH A STAFF MEMBER, PLEASE CALL 910-592-7161 AND WE WILL BE GLAD TO ASSIST YOU. CALL AND SCHEDULE AN APPOINTMENT, NO WALK UP WILL BE ALLOWED AT THIS TIME.
EFFECTIVE MONDAY MARCH 23, 2020 
Our office will be closed to the general public until further notice. Clients may make appointments with staff for urgent matters, in office or field. We will establish a designated "drop off/pick up box" at our office entrance area. Items such as soil boxes, publications, or other correspondence will be collected in this manner with packages clearly labeled for the client or staff member. 
HELP US TO HELP YOU
Please complete this survey and let us know what we can do to help you during COVID-19.
2020 Enrollment, Medical Release, Code of Conduct and Media Release
All 4-H Enrollment, Medical Release, Code of Conduct and Media Release forms must be updated before you can participate in any 4-H events! If you are having issues logging in to your old "family profile" please contact Genny Thompson or Elizabeth Merrill for further assistance.
(see the weblinks at the bottom of the page)
_________________
NATIONAL 4-H WEEK 2020
OCTOBER 4-10, 2020
SHOW YOUR 4-H PRIDE!!! Help us celebrate 4-H during National 4-H Week! 4-H offers opportunities for all to get involved in various project area! Help us share the word. There are materials here that you and your family can use to promote National 4-H Week!
RESOURCES:
Printable Sign – Celebrate National 4-H Week –
Printable Sign – A Proud 4-H'er Lives Here
Printable Sign – What Opportunity Means to Me – SPANISH
Printable Sign – What Opportunity Means to Me
We also hope that you will join North Carolina 4-H nightly for webinars!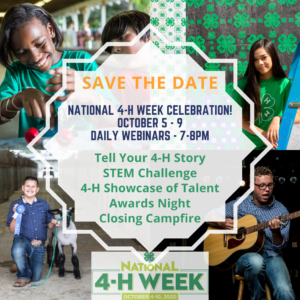 __________________
2020 Hay Bale Decorating Contest
DEADLINE TO RSVP BALES: October 12, 2020   DEADLINE TO ENTER: Nov. 16th
Sampson County 4-H in junction with North Carolina 4-H will be hosting a Hay Bale Decorating Contest. This contest will replace the Hay Bale Decorating Contest that takes place at the State Fair. You will be provided two bales if they RSVP by the October 12th deadline. If their designs require more than two bales, they will be responsible for providing more bales. Bales must be centered around the theme of 4-H. All bales will be displayed at the Sampson County Cooperative Extension Office on 55 Agriculture Pl. Clinton, NC 28328. Youth must be between 5-18 to participate. Individual or family entries accepted.
For full list of rules click here:  4-H Hay Bale Competition 2020 Rules
__________________
2020 Virtual Craft Contest
DEADLINE TO ENTER OCTOBER 30, 2020    
Do you like to do arts and crafts! Then this is you chance to show us your stuff! North Carolina 4-H is hosting a 4-H Virtual Craft Contest in replacement of the North Carolina State Fair craft contest. This contest is open to anyone who is enrolled in 4-h and between the ages of 5-18 as of January 1st. Just take a picture and upload it to the Google Drive! Its just that simple! For full rules and categories, please see document link below.
CLICK HERE FOR GOOGLE DRIVE SUBMISSION LINK
__________________
2020 Sampson County 4-H Baking/Canning Contest
COMING SOON
Have you canned goods over the summer? Found a new love for baking over the summer. Then we have an upcoming opportunity for you! Stay tuned!
__________________
2020 KIDS VOTE USA!
VOTE NOW THROUGH NOVEMBER 3rd!
Do you want your voice as a kid to be heard in the 2020 Election! Then hear is your chance! Now through November 3rd, kids from across Sampson County will be able to vote in a mock election! This ballot will be similar to what they would see at the polls if they were voting in the 2020 Elections. To vote, click the link below!  VOTE CODE IS 1004. On November 4th, the Mock Elections results will be available both here and on the  Sampson County 4-H Facebook page!
__________________
What is 4-H?
4-H is the largest youth development organization in the United States, with more than 6 million youth involved in various programs and project areas. 4-H is delivered by the 101 Cooperative Extension Offices across the state of North Carolina. We believe in the power of youth. We see that every child has valuable strengths and real influence to improve the world around us. We empower them with leadership, communication and life skills that are needed to succeed in today's world.
How do I get involved?
Getting involved in 4-H is really simple! There is no fee to join or uniforms required for participation. You can participate in 4-H in multiple ways:
Afterschool / In-School Enrichment
Community Clubs
Camps / Day Camps / Workshops
Youth At Large
Afterschool / In-School Enrichment
In some areas, there are 4-H programs offered through your local school. These programs are usually managed by volunteers and/or local extension staff. Youth participate in activities that build leadership and life skills during or after school hours. To check on the availability of these programs or to find an afterschool program, please call us at (910) 592-7161.
Community Clubs
4‑H clubs follow a planned program and offer multiple learning opportunities for youth that are self-directed. Clubs can meet in a variety of locations and typically meet in the evenings and on the weekends. Sampson County 4-H currently has seven 4-H Clubs and two 4-H Groups. Those clubs include but are not limited to:
Majestic Riders 4-H Horse Club
Prime Cuts 4-H Livestock Club
Cookie Clover Scouts 4-H Club
4-H Juntos, Hobbton Schools
4-H Juntos, Clinton High & Sampson Middle School
Sampson County 4-H Youth Leaders
For more information on how to get involved with one of our community clubs, please call (910) 592-7161 or email us at elizabeth_rowe@ncsu.edu or genny_thompson@ncsu.edu.
Camps/ Workshops / Day Camps
Sampson County 4-H offers many opportunities for youth of all ages to participate in activities that range from livestock to cooking. During the months of June, July, and August, Sampson County 4-H offers a  variety of summer day camp opinions. Day camp and workshop prices range from $5.00 to $25.00.
4-H youth also have to opportunity to attend week long summer camps at one of our three 4-H Camp Centers. Older youth have to opportunity to participate in several 4-H Teen events that take place during the summer. For more information on how to get involved, please call (910) 592 -7161.
Youth at Large
Did you know that you do not have to be a member of a club to participate in 4-H? If we don't have a club that interests you, you can still participate by being a 4-H Youth at Large Member. Youth at Large are not involved in 4-H Clubs, however still participate in the same events, programs and workshops as normal club members. For more information, please call (910) 592-7161.
How do I join?
North Carolina 4-H is moving forward! Enrollment forms are now paperless! To enroll in Sampson County 4-H, please visit the 4-H Online link below. If you are new to 4-H, you will create a new "family" profile. If you have been involved with 4-H in the past, just update your information and "reactivate" your enrollment. It's really that simple! If your are unsure on the enrollment process, please refer to the help pages below for tips on how to register. If you are still having problems, please contact Genny Thompson or Elizabeth Merrill at 910-592-7161 and we will be glad to assist you.
REGISTER FOR SAMPSON COUNTY 4-H!
https://northcarolina.4honline.com/Login
Need help? Click the link below for instructions on how to register.
Creating a Family Profile _4Honline
How Do I Start a 4-H Club?
So you are thinking about starting a 4-H club? That's great! There are a couple of things that you will need in order to start a 4-H Club in your area or community.
A responsible and willing adult volunteer. Co-Leaders are welcomed!
Five youth from at least two or more families
A place to meet (We can help!)
Its really that simple! If you are thinking about starting a 4-H club, please contact Genny Thompson or Elizabeth Merrill and schedule an appointment to talk about the goals and ideas you have and to help you get started!
4-H Club Resources
Below are some resources for new and existing 4-H Clubs. ALL FORMS MUST BE RENEWED EACH YEAR! If you have any questions regarding any of the following forms, please contact our offices at 910-592-7161.
Club Charter Application (Update Annually)
4-H Financial Report Form (Update Annually)
4-H Group Tax Exemption Authorization (New Clubs)
Directions on Applying for EIN and Filing Epostcard
Club Meeting and Program Planning
Filing IRS 990N Form Directions
North_Carolina_4-H_Registration (Update Annually)
Non-discrimination Statement Form 2019 (Update Annually)
Follow us on Facebook, Twitter, or Instagram!
Facebook (Sampson County 4-H)
Twitter / Instagram (sampson4hnc)