Sampson County 4-H

2019 Enrollment, Medical Release, Code of Conduct and Media Release 
All 4-H Enrollment, Medical Release, Code of Conduct and Media Release forms must be updated before you can participate in any 4-H events!
Use the NEW 4-H Online system!
(see the weblinks at the bottom of the page)
UPCOMING EVENTS
——————————————————
2019 4-H SUMMER FUN!!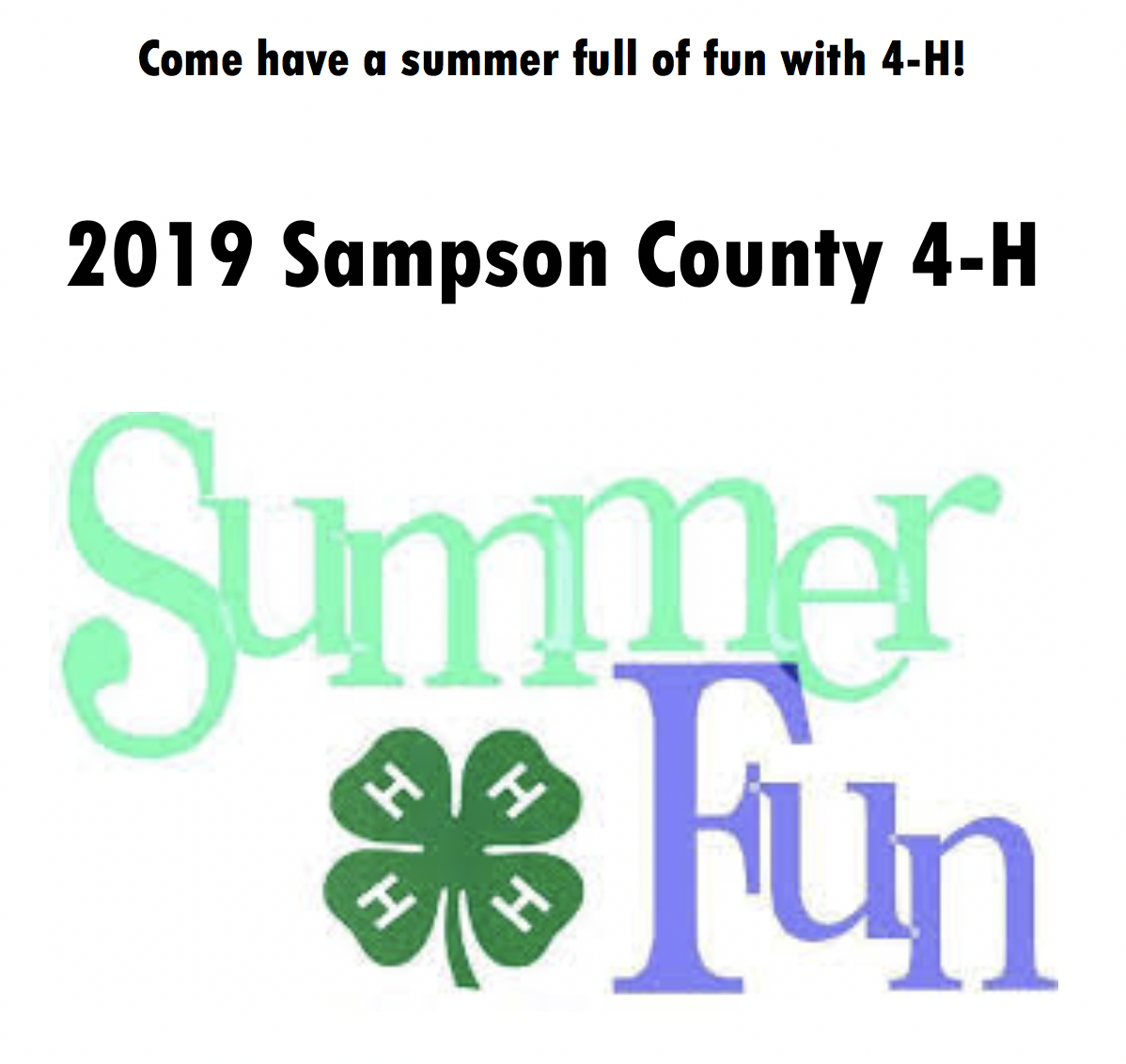 THANK YOU TO ALL THAT JOIN US FOR SUMMER FUN!
Remember that the fun doesn't end with summer! If you found a project or activity that you are interested in this summer and would like to know more about how to get involved in 4-H, please contact Mrs. Elizabeth or Ms. Genny for more information. 4-H Clubs and groups are the best way to stay involved in all the 4-H fun!
2019 Prestage Youth Livestock Round-Up
August 17, 2019       George Upton Livestock Facility     Clinton, NC
Market Lambs – 9:00 a.m.     Heifer Show – After concussion of Lamb show (No earlier than 1:00 p.m.) 
We hope you will be joining us this year for the 2019 Prestage Youth Livestock Round Up! Entry deadline for the show is August 9, 2019. Please send all entry forms to Paul Gonzalez, Livestock Agent for Sampson County. PLEASE NOTE THAT THIS IS A OFFICIAL 4-H SHOW AND WILL BE OPERATING BY 4-H RULES! Youth 5-7 years of age will be considered non-competitive and will not receive circuit points. Youth ages 4 and under will not be allowed to participate.
Click the link below for the entry form and rules:
2019 Prestage Farms Youth Livestock Round-Up Rules and Registration Forms
—————————-
2019 North Carolina State Fair
Raleigh, NC     October 17-27, 2019 
DEADLINE TO ENTER COMPETITION: SEPTEMBER 15, 2019  

 
Are you talented in art or sewing? Made something out of recyclable items over the past year? Do you have a bug collection? Then enter it in the fair! The deadline for the North Carolina State Fair is fast approaching! REMEMBER THAT WALK UP ENTRIES WILL NOT BE ACCEPTED! ALL ENTRIES MUST BE PRE-REGISTERED. Deadline to register your entries is September 15, 2019. Entries can be mailed, hand delivered or entered online.
Link to State Fair 4-H Division Rules and Entry Forms:
2019 PAPER ENTRY FORM NCSTATEFAIR
CLICK HERE FOR ONLINE ENTRY FORM
__________________________
2019 Sampson Swine Show
September 28, 2019     SHOW STARTS 10:00 a.m.     WEIGHT-IN: 8:00-9:30 a.m.
DEADLINE TO REGISTER: SEPTEMBER 15, 2019
We hope that you will join us this year for the Sampson County Swine Show! This show will be apart of the Eastern Carolina Showmanship Circuit series and will count towards points in the circuit. If you would like more information about the show, please contact Max Knowles at 910-592-7161 or Max_Knowles@ncsu.edu.
ENTRY FORM COMING SOON! 
__________________________
2019 Clinton Square Fair
Previous known as Court Square Street Fair
October 12, 2019
Calling all 4-H clubs, groups, and members! Clinton will be holding its annual fair on the square again this year and we need your help! if you are interested in volunteering with your club or group or you have great ideas on how to advertise 4-H, we want to here them! Please contact Genny Thompson or Elizabeth Merrill at 910-592-7161 for more information.
__________________
What is 4-H?
4-H is the largest youth development organization in the United States, with more than 6 million youth involved in various programs and project areas. 4-H is delivered by the 101 Cooperative Extension Offices across the state of North Carolina. We believe in the power of youth. We see that every child has valuable strengths and real influence to improve the world around us. We empower them with leadership, communication and life skills that are needed to succeed in today's world.
How do I get involved?
Getting involved in 4-H is really simple! There is no fee to join or uniforms required for participation. You can participate in 4-H in multiple ways:
Afterschool / In-School Enrichment
Community Clubs
Camps / Day Camps / Workshops
Youth At Large
Afterschool / In-School Enrichment
In some areas, there are 4-H programs offered through your local school. These programs are usually managed by volunteers and/or local extension staff. Youth participate in activities that build leadership and life skills during or after school hours. To check on the availability of these programs or to find an afterschool program, please call us at (910) 592-7161.

Community Clubs
4‑H clubs follow a planned program and offer multiple learning opportunities for youth that are self-directed. Clubs can meet in a variety of locations and typically meet in the evenings and on the weekends. Sampson County 4-H currently has seven 4-H Clubs and two 4-H Groups. Those clubs include but are not limited to:
Majestic Riders 4-H Horse Club

Prime Cuts 4-H Livestock Club

Cookie Clover Scouts 4-H Club

Hippity Hop 4-H Rabbit Club

4-H Juntos, Hobbton

4-H Juntos, Clinton

Every Buddies Kids 4-H Club
For more information on how to get involved with one of our community clubs, please call (910) 592-7161 or email us at elizabeth_rowe@ncsu.edu or genny_thompson@ncsu.edu.
Camps/ Workshops / Day Camps
Sampson County 4-H offers many opportunities for youth of all ages to participate in activities that range from livestock to cooking. During the months of June, July, and August, Sampson County 4-H offers a  variety of summer day camp opinions. Day camp and workshop prices range from $5.00 to $25.00.
4-H youth also have to opportunity to attend week long summer camps at one of our three 4-H Camp Centers. Older youth have to opportunity to participate in several 4-H Teen events that take place during the summer. For more information on how to get involved, please call (910) 592 -7161.
Youth at Large
Did you know that you do not have to be a member of a club to participate in 4-H? If we don't have a club that interest you, you can still participate by being a 4-H Youth at Large Member. Youth at Large are not involved in 4-H Clubs, however still participate in the same events, programs and workshops as normal club members. For more information, please call (910) 592-7161.
How do I join?
North Carolina 4-H is moving forward! Enrollment forms are now paperless! To enroll in Sampson County 4-H, please visit the 4-H Online link below. If you are new to 4-H, you will create a new "family" profile. If you have been involved with 4-H in the past, just update your information and "reactivate" your enrollment. It's really that simple! If your are unsure on the enrollment process, please refer to the help pages below for tips on how to register. If you are still having problems, please contact Genny Thompson or Elizabeth Merrill at 910-592-7161 and we will be glad to assist you.
TO REGISTER FOR SAMPSON COUNTY 4-H, CLICK HERE!
https://northcarolina.4honline.com/Login
Need help? Click the link below for instructions on how to register.
Creating a Family Profile _4Honline
How Do I Start a 4-H Club?
So you are thinking about starting a 4-H club? That's great! There are a couple of things that you will need in order to start a 4-H Club in your area or community.
A responsible and willing adult volunteer. Co-Leaders are welcomed!
Five youth from at least two or more families
A place to meet (We can help!)
Its really that simple! If you are thinking about starting a 4-H club, please contact Genny Thompson or Elizabeth Merrill and schedule an appointment to talk about the goals and ideas you have and to help you get started!
4-H Club Resources
Below are some resources for new and existing 4-H Clubs. ALL FORMS MUST BE RENEWED EACH YEAR! If you have any questions regarding any of the following forms, please contact our offices at 910-592-7161.
Club Charter Application (Update Annually)
4-H Financial Report Form (Update Annually)
4-H Group Tax Exemption Authorization (New Clubs)
Directions on Applying for EIN and Filing Epostcard
Club Meeting and Program Planning
Filing IRS 990N Form Directions
North_Carolina_4-H_Registration (Update Annually)
Non-discrimination Statement Form 2019 (Update Annually)
Follow us on Facebook, Twitter, or Instagram!
Facebook (Sampson County 4-H)
Twitter / Instagram (sampson4hnc)