Farmers: Want to Learn More About MeatSuite? Here Are Some Upcoming Opportunities!
Find this article at:
go.ncsu.edu/readext?726816
Making the Most Out of Bulk Sales Opportunities: Two New NC Choices' Tools
September 15, 2020, from 2–3:30 p.m.
FREE
Registration is REQUIRED for the webinar.
For the past year, NC Choices has been rolling out two new resources for North Carolina farms selling meat. These resources are particularly timely as the pandemic has driven an increasing number of consumers to seek local meat and to stock up on supplies. We'll introduce the Meat Price & Yield Calculator, an easy to use online tool to test and adjust your prices and ensure a profit whenever you sell meat. The calculator uses your farm's data to develop pricing that covers production, processing, and marketing costs, including the value of your time. Also, learn about adding your farm to the MeatSuite directory of North Carolina farms selling meat in bulk quantities. MeatSuite is a free website that helps consumers find your farm and "fill their freezer."
Creating Consumer-Friendly Bulk Meat Sales in the Time of COVID-19
Friday, November 6, 11 a.m.–12:30 p.m.
Register via the North Carolina Farm Steward Association Conference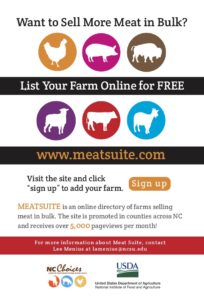 COVID-19 created a challenging situation for conventional livestock markets and processors. Along with this challenge, farms are presented a unique opportunity to market meat directly to the consumer. This workshop is designed to equip the producer with clear and simple steps towards making bulk meat sales, such as quarters, halves, and mixed-cut bundles. We'll cover "how to" tips to help you get started quickly and will address the characteristics of the "crisis consumer." Join Ag. Marketing Consultant, Matt LeRoux from the NC Choices MeatSuite team for this workshop that covers understanding the consumer, pricing, product formats, and reaching consumers.